HEROES OF THE FAITH
At North Holmwood in Holy Week 2003, we are looking at three figures from the last two centuries who have inspired me as a Christian:
1) BILLY BRAY (1794 - 1868)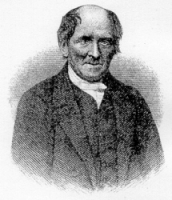 Biography: A Cornish tin-miner, rough-living and hard-drinking; converted to Christ in 1823; a local preacher from 1824; founded several chapels.
Some themes: the rôle of personal experience; joy; immediacy of the spiritual world; childlikeness of trust; but also: shallowness and narrowness of understanding; seeds of division; black & white – for self and for others.
An extract: Billy tells of an encounter with the Devil: "Friends, last week I was a-diggin' up my 'taturs. It was a wisht poor yield, sure 'nough; there was hardly a sound one in the whole lot. An' while I was a-diggin' the devil come to me, and he says, "Billy, do you think your Father do love you?". "I should reckon he do", I says. "Well, I don't", says the ould tempter in a minute. If I'd thought about it I shouldn't ha' listened to 'en, for his 'pinions ben't worth the leastest bit o' notice. "I don't", says he, "and I tell 'e what for: if your Father loved you, Billy Bray, He'd give you a pretty yield o' 'taturs; so much as ever you do want, and ever so many of 'em, and every one of 'em as big as your fist. For it ben't no trouble to your Father to do anything; and He could just as easy give you plenty as not, an' if He loved you, He would, too." Of course, I wasn't goin' to let he talk o' my Father like that, so I turned round 'pon 'en. "Pray, sir", says I, "who may you happen to be, comin' to me a-talkin' like this here? If I ben't mistaken, I know you, sir, and my Father, too. And to think o' you comin' a-sayin' He don't love me! Why, I've got your written character home to my house; and it do say, sir, that you be a liar from the beginnin'! An' I'm sorry to add that I used to have a personal acquaintance with you some years since, and I served you faithful as ever any poor wretch could: and all you gave me was nothing but rags to my back, and a wretched home, and an achin' head, an' no 'taturs, and the fear o' hell-fire to finish up with. And here's my dear Father in heaven. I have been a poor servant of His for thirty years. An' He's given me a clean heart, an' a soul full o' joy, an' a lovely suit o' white as'll never wear out; and He says that He'll make a king o' me before He've done, an' that He'll take me home to His palace to reign with Him for ever and ever. An' now you come up here a-talkin' like that." Bless 'e, my dear friends, he went off in a minute, like as if he'd been shot – I do wish he had – and he never had the manners to say Good mornin'."
Questions to ponder: What has your experience of God been, and what is it now? In what sense should our experience of God change during our lives; and how do we sustain and develop it? Joy is a "fruit of the Spirit": what does it mean to you? Is there an appropriate simplicity or naïveté for Christians? How large a rôle does, and should, the afterlife play in your thoughts and feelings?
Links: F W Bourne's classic biography, Billy Bray: The King's Son is on-line in its entirety. There's a Billy Bray Memorial Trust maintained by the Methodist Church in Cornwall.
2) TEMPLE GAIRDNER (1873 -1928)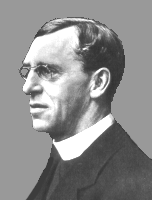 Biography: Born in Ardrossan, Ayrshire; read Classics at Oxford; joined OICCU after the death of his brother; went as a CMS missionary to Sudan and Egypt; married; lifetime of evangelism, including pastoral care and Bible-translation.
Some themes: commitment and culture; material, and social, sacrifice; spirituality and romantic love; humility and obedience.
An extract: A prayer written by Temple Gairdner before his marriage: "That I may come near to her, draw me nearer to thee than to her; that I may know her, make me to know thee more than her; that I may love her with the perfect love of a perfectly whole heart, cause me to love thee more than her and most of all. Amen. Amen. That nothing may be between me and her, be thou between us, every moment. That we may be constantly together, draw us into separate loneliness with thyself, And when we meet breast to breast, my God, let it be on thine own. Amen. Amen."
Questions to ponder: In what way are you being called to make material or other sacrifices as part of your following of Jesus? What difference does your experience of God's love make to your human experiences of love? What part does a desire for status, or recognition by others, play in your life.
Links: George Morley wrote in the December 1994 edition of St Peter's Nottingham church magazine about Temple Gairdner as a hero of his. The Church Missionary Society (CMS), for which he worked, is still active.
2) HASSAN DEHQANI-TAFTI (1920 - )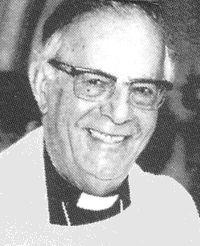 Biography: Born in Taft, Persia; Muslim father, Christian mother; CMS school; baptism; Wycliffe & ordination; ministry and eventually Bishop in Iran; Islamic revolution; son's murder; exile to England.
Some themes: Gospel & culture; pre-Islamic Persia; inclusiveness; poetry; Islamic extremism; suffering and forgiveness.
An extract: Hassan's prayer on the murder of his son: "O God, we remember not only our son but also his murderers; not because they killed him in the prime of his youth and made our hearts bleed and our tears flow; not because with this savage act they have brought further disgrace on the name of our country among the civilized nations of the world; but because through their crime we now follow thy footsteps more closely in the way of sacrifice. The terrible fire of this calamity burns up all selfishness and possessiveness in us; its flame reveals the depth of depravity and meanness and suspicion, the dimension of hatred and the measure of sinfulness in human nature; it makes obvious as never before our need to trust in God's love as shown in the cross of Jesus and his resurrection; love which makes us free from hate towards our persecutors; love which brings patience, forbearance, courage, loyalty, humility, generosity, greatness of heart; love which more than ever deepens our trust in God's final victory and his eternal designs for the Church and for the world; love which teaches us how to prepare ourselves to face our own day of death. O God, our son's blood has multiplied the fruit of the Spirit in the soil of our souls; so when his murderers stand before thee on the day of judgment remember the fruit of the Spirit by which they have enriched our lives. And forgive."
Questions to ponder: What does the command to honour our parents mean for us? To what extent does the Gospel replace, and to what extent does it fulfil, our pre-Christian priorities and aspirations? How does our suffering, or that of others, affect our Christian faith and discipleship? What hope is there for interfaith understanding in an age of Islamic extremism?
Links: H B Dehqani Tafti has written on-line about the Christ and Christianity in Persian Poetry. It doesn't seem that the Anglican Diocese of Iran has an official web-page yet – though you could try here.


Other Writings John's Homepage John & Liz's Welcome Page

page revised April 2003